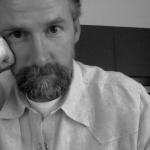 Today's Meet a Dad profile is John Blase, a writer and editor in Colorado. Most recently he has been collaborating with Brennan Manning on Manning's upcoming memoir, Ragamuffin Grace — which I can't wait to read.
(The goal of Meet a Dad: Profile a dad and let him share his fatherly wisdom with us. Some of these dads will be well-known in certain circles; others will be largely unknown outside of their immediate circles. Doesn't matter, because I think just about every father has as much — or more — to share than I do.)
————
Tell us who you are and what you do…
My name is John Blase. I live out West but I'll always be from the South. I edit the words of others by day and string my own together by night. Meredith is my wife/girlfriend. Silver and gold have we not, but we've got Will (14), Sarah (13), and Abbey (9); in other words, we're rich.
What is one thing you do that qualifies you for being an above-average dad?
I tuck my kids in every night, kiss 'em, and tell them 'I love you.' I don't know if many dads, above/below/just average do that. I hope they do, but I don't know.
What is one thing you do that results in eye rolls and/or exasperation from your kids?
I get up on weekend mornings and turn on the easy listening channel (Sinatra, Sergio Mendes, Patsy Cline). My kids don't like it, but I don't care.
What is the most challenging aspect of fatherhood for you?
My day starts about 4am…throw in a full eight at work with a commute on both sides and by the time I get home I'm exhausted. That's fair. But they need me in those evening hours, maybe these days more than ever. So I've gotta stay alert and oriented.
What is your absolute favorite thing to do with your kid?
We bought a trampoline a few years back due to neighboring peer pressure, and that thing's become a place for all of us to blow off steam, lay down and look at clouds, or just talk about stuff. We believe everybody needs a tramp.
What's the best advice you ever received about fatherhood?
I watched my Dad's example and learned from his life. What meager father I am is because of him, hands down. I did read a couple of fathering books, but they were dumb.
If another father asked you for one piece of advice about being a dad, what would you tell him?
Linger. Linger every chance you get: tying their shoes, washing their hair, teaching them the bike, helping them with math or getting them dressed for church…linger over them when they're sad, happy, angry, confused. Linger…'Cause by god it goes fast.
Please indicate any blog or social media links if readers would like to connect with you online.
Blog: thebeautifuldue.wordpress.com
Twitter: @johnblase
————
Previous dads: