The goal of Meet a Dad: Profile a dad and let him share his fatherly wisdom with us. Some of these dads will be well-known in certain circles; others will be largely unknown outside of their immediate circles. Doesn't matter, because I think just about every father has as much (or more) to share than I do.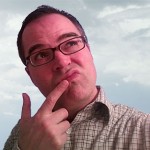 Today's dad is Rob Tucker, a youth and children's minister from Pennsylvania.
————
Tell us who you are and what you do…
I am a pastor of young adults at a church in York, PA. I oversee the staff of our children's and youth departments as well, but my primary role is running a Tuesday-night ministry called Liquid Tuesdays. Besides being a dad, I am passionate about finding creative and culturally fitting ways to explain the timeless truths about Jesus. He is my everything.
My wife and I have 3 biological children (12, 10, and 6), and just had our court hearing to adopt Matthew (5) from Ethiopia. We said we were done after our second child, and we were "definitely" done after our third. Funny how that happens.
What is one thing you do that qualifies you for being an above-average dad?
I don't see myself as above-average, but the lessons God is teaching me through adoption are profound. I thought I had learned many lessons about the Father's love for his children through fatherhood, but adoption has brought another perspective entirely. That God would willingly choose me to be his adopted child is an overwhelming reality. It takes my breath away. I believe this affects the way I parent my children.
What is one thing you do that results in eye rolls and/or exasperation from your kids?
Oh man, where to begin? How 'bout last night: We were eating at Isaac's as a family and helping to plan my oldest daughter's upcoming 13th birthday party. I was trying to throw out creative ideas when I heard the words "taco bar" come out of my mouth. She laughed at that idea for a good 10 minutes. I mean, we were eating dessert and she was still laughing. She said that it would be fine as long as I dressed up with a huge sombrero and big curly mustache. Funny thing is, it was one of my better ideas.
What is the most challenging aspect of fatherhood for you?
I love spending time with each of my kids, but sometimes it's difficult to give them each the individual attention they need. I work really hard at this, but I often feel that I am paying attention more to one because of a need or minor crisis, and realize that another may be feeling left out. I did not grow up with a lot of parental attention, so this is a sensitive issue for me.
What is your absolute favorite thing to do with your kids?
Again, I love to spend individual time with each of them, figuring out what they uniquely will enjoy. I had a blast taking my oldest daughter out to a hibachi restaurant for the first time—just the two of us. I had an awesome time taking just my son to see a playoff basketball game last year in Boston. We are planning to take our youngest daughter to see the Winnie the Pooh movie tomorrow by herself. I love letting my kids know that they are special and loved.
What's the best advice you ever received about fatherhood?
Probably that you should read all the books, but don't believe everything you read. You need to hear all of the perspectives about parenthood so that you are prepared, but at the end of the day, you need to make choices that are unique to the children God gave you. For instance, the way I discipline my son looks nothing like the way I discipline my daughters. There is no "one size fits all" in parenting.
If another father asked you for one piece of advice about being a dad, what would you tell him?
I would tell him what I just shared above. But I would also tell him that there is no substitute to bringing kids up to love Jesus. I have the privilege of baptizing my two oldest next month, and I am so jacked about it!
Please indicate any blog or social media links if readers would like to connect with you online.
My blog is called The Skipping Stone. I'm friartuckerx6 on Twitter and am on Facebook, too.
————
Previous dads: