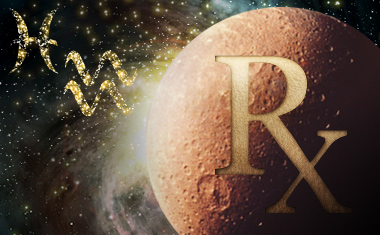 Mercury Retrograde is never very much fun, and as a Gemini it always seems to affect me more because Mercury is my ruling planet. But this time Mercury is going retrograde from February 6-28 in quirky Aquarius and spiritual Pisces, so it might not be so bad.
The thing is, Mercury Retrograde at its best is a time to stop and think and rest and dream. Aquarius is very mental, and Pisces loves to fantasize, so this sounds like an OK combination to me.
Of course, Mercury will be spinning backward over Valentine's Day, which isn't the best news for lovers. And yes, there will still be troubles with technology and communications will go awry, but I do think fewer things will go wrong during this Mercury Retrograde than the last one.
You can read more about what to expect during Mercury Retrograde at Tarot.com, and read the horoscopes to prepare for this specific retrograde turn.
Geminis are supposed to feel this retrograde most in the areas of work and career, so I'm going to make sure I don't have any e-mail misfires on the job and that I'm not the one to break the copy machine!
Good luck everyone, study up and get ready for it!
Learn more about Mercury Retrograde in Aquarius and Pisces at Tarot.com »