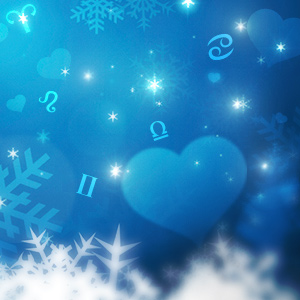 For those of you who read my blog regularly, it's pretty obvious I'm in love with love. I figured out a long time ago that love is the most important thing in the world, and if you're lucky enough to have it, well, it seems to power everything else in your life.
Whatever it is that stresses you out — work, money, family — if you have a loving partner it makes all of life's challenges easier to bear. That's my own personal stance, anyway, and it's why I always keep a close eye on the love horoscopes.
I read my daily love horoscope, my weekly love horoscope, my monthly love horoscope … and now I'm excited to see the Winter Love Horoscopes are in. The news is mostly good — for those of us who are feeling out in the cold this winter, the horoscopes assure us this is a good time to work on generating some heat.
Love planet Venus actually turns retrograde in serious Capricorn on the first day of winter, December 21, and this reversal will affect relationships through January 31. This is a mixed bag. It will have everyone rethinking their relationships, and some may end. But it's also a time when you can slow down and work on growing closer together.
Mars is also in Libra throughout winter, which is to say the planet of war is in the sign of peace. This can play out in a number of different ways when it comes to matters of the heart — everything from finding more harmony in relationships to passive-aggressive behavior or lying. You need to read the 2014 Love Horoscopes for your zodiac sign to find out how it will affect you!
As for me, I feel very grateful to have someone special in my life, and my own Gemini love horoscope this winter promises passion. My man's a Gemini, too, so that's double good news.
Read your own Winter Love Horoscope now and find out how to make the most of romance this winter — whether you're single or coupled up, it's time to melt someone's heart!