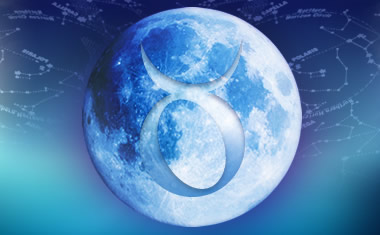 I love me a Full Moon! Especially when it lights up the night during the week of Halloween, lending an air of mystery to all our spooky shenanigans.
That said, tonight's Full Moon in Taurus is a little more serious than some. The Full Moon takes place at 3:49 p.m. (ET) on Monday, October 29, and it's opposite the Scorpio Sun, which is in a conjunction with stern Saturn.
All told, Taurus is a highly practical sign, which makes this a simple, comfort-seeking Full Moon — but we might need to struggle a bit to find that comfort. There's an emphasis on money matters, and the need to balance our budgets.
Astrologers are advising us to cut back in some areas in order to keep other areas afloat — not just materially, but emotionally. Which I suppose means simply giving less energy to things that are draining — whether it's a shopping addiction or a bad relationship.
It's funny that the Full Moon in Taurus Horoscopes are urging us to be practical now, just as so many of us prepare to dress up like freakish ghouls and spend our money on witches brew at Halloween parties.
But the underlying message is really about doing practical things that will help you find balance. So then, this week of Halloween I'm going to do my best to merge my own personal Jekyll & Hyde Gemini Twins and see if I can't come out more whole. What are YOU going to do?