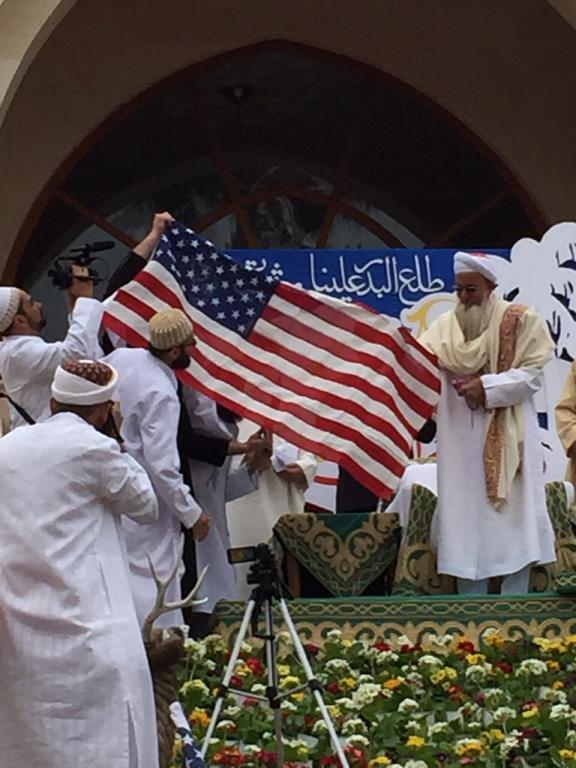 This is a guest post by Safiya Dahodwala.
Syedna Mufaddal Saifuddin TUS graced the land of America for the first time as the 53rd Dai (spiritual leader) of the Dawoodi Bohra Muslim community. It has been nearly a decade since his predecessor, Syedna Mohammed Burhanuddin bestowed his bountiful blessings upon the Bohra community in America.
Syedna presided over a momentous reception, during which several dignitaries welcomed His Holiness to Los Angeles. A representative from the office of Rep Brad Sherman presented Moula with an American flag that had once flown over the capitol. I was watching Moula from a balcony afar, and saw the flag about to be presented to Moula. I turned my head for a split second, only to see when I looked back that Moula had so swiftly stood up out of his chair, and in a half bow of respect, accepted the flag and shook the dignitary's hand. The flag was then opened, and Moulana held the American flag wide open for all of us to see. What a sight indeed! I've never felt more proud to be an American Dawoodi Bohra than when, on his fist visit to America as Dai, Moulana held up our flag, an emblem of our nationality.
I was reminded of both Moula's bayaan, and the hadeeth of Rasulallah, who state that it is imperative to support the land in which you reside. The grace with which Moula received the dignitaries that come to welcome His Holiness on Friday speaks to his humility and deep respect for all people. Moulana concluded Friday's event with a recital of the Star Spangled Banner, another nod to His reverence for the USA, its leaders, and the citizens of this nation.
Safiya Dahodwala, from Illinois, is a senior at George Washington university in Washington, DC majoring in International Affairs and Geography. She is looking forward to a career in natural hazard and disaster management after she graduates in May.
Related: Islamic world leader inaugurates Woodland Hills mosque