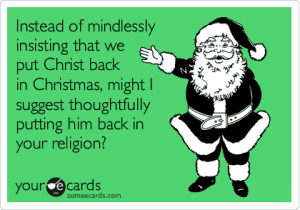 It is Christmas Eve, and it is time to put the Christ back in Christmas.
The title "Christ" is derived from a greek word, Khristos, which means "to anoint" – anointing being the process of pouring perfume, oil or water over a person to signify their spiritual elevation, and is common to many religions. Christians believe that Jesus was anointed with the Spirit of God, rather than oil, which (the obvious theologic differences aside) is analogous to the Islamic idea of being a Prophet.
For Muslims, love of the Prophets, especially the Messengers of God who brought new revelations to mankind (including the Torah, the Bible, and of course the Qur'an) comes naturally. In about a month, we will be celebrating Milad al-Nabi as well, after all. Therefore as a Muslim I find the "put Christ back in Christmas" message to be an appealing one – to remember and honor of the greatest human beings who ever lived, and be thankful for the message of God to humanity over the centuries.
Personally, I also think that having a merry Christmas is more meaningful than having a merely happy holiday. You can have a happy holiday at the beach, but there's no deeper meaning in it. Being merry on Christmas requires finding and acknowledging the joy of spirituality, and accepting the responsibility of the message of God. The first and foremost message of Jesus was love and forgiveness, and that is something that is in short supply in American civil discourse. Honoring Jesus during Christmas means more than just words about putting Christ back, it requires action in charity and forgiveness. I think that cancelling unemployment benefits and blocking immigration reform runs deeply counter to that Christmas spirit.
Let's hope that we all find the strength to remember that Jesus is indeed the reason for the season – but to uphold the values that the Prophet Issa AS espoused all year long rather than just paying lip service to them for two weeks a year.