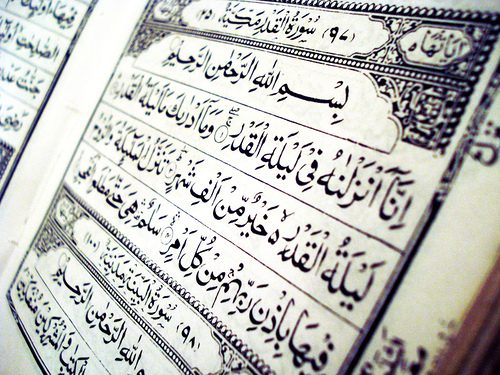 We have indeed revealed this (Message) in the Night of Power; And what will explain to thee what the night of Power is? The Night of Power is better than a thousand months. Therein come down the angels and the Spirit by Allah's permission, on every errand of Peace. This until the rise of morn!

Laylatul Qadr mubarak!
As with moonsighting, there is some difference between schools of jurisprudence as to the actual date of Laylatul Qadr, but all Muslims agree that this it was the night of the Revelation of the Qur'an to the Prophet, and that prayer and supplication (ibadat and dua) on this night are amplified thousandfold.
Tonight is the very the apex of Ramadan, the highest point of our efforts, and the maximum reward.
As I noted a few years ago, there is an analogy to the Hajj, as Ramadan is the spiritual journey counterpart to the physical one of pilgrimage. In Hajj we travel physically to the Plain of Arafat on the Day of Arafat, and in Ramadan we travel spiritually to an elevation of spirit on the Night of Power. The journey is not over, but the remaining time is scarce and dwindling away.
The longest days have given rise to the longest night, but the shortest month is even shorter still, now. Make the most of it!
Related: my post from last year (Laylatul Qadr 1433 H) on the intense preparation for the night of Power and a detailed description of how the night typically unfolds in prayer and supplication.