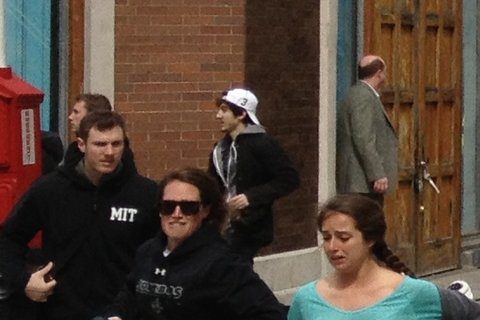 To summarize what is known at this time, the main suspects for the Boston marathon bombing are two brothers who immigrated from Chechnya to America years ago and have grown up here. How they became radicalied, and what their motive was still remains unknown, but their method is best described as "open-source" lone-wolf terrorism – as this excellent, excellent article in the Daily Beast, makes clear:
al Qaeda in Yemen, which calls itself Al Qaeda in the Arabian Peninsula, quickly realized just how much could be done with very little, and started to lower its sights still further. With the publication of a slick online magazine called Inspire, it sought to spread the open-source technology of terror in English to anyone who might be interested, even if they ignored or detested the al Qaeda ideology.

Ten issues of Inspire are now available on the Web. One of the first, famously, taught you how to "build a bomb in the kitchen of your mom." That infernal device was much like the ones made from pressure cookers used in Boston.

The most recent issue of the magazine sets the bar even lower, demonstrating, for instance, how to screw up traffic, and maybe cause a few fatalities, with boards full of nails and oil slicks. "Following simple instructions, you can carry out a lethal ambush," it advises. "There is no retaliation to face, just place and vanish."

In 2011, Awlaki and the magazine's editor were blown away in a drone attack, but the publication goes on. Right-wing nuts can use it; so can Black Bloc anarchists and, for that matter, conventional criminals and extortionists. All may have their own reasons for creating mayhem, but they also serve the general cause of disruption.

These sorts of lone wolves—whether inspired by al Qaeda or a domestic agenda—are in many ways the toughest cases for law enforcement. "Mobile homegrown types are difficult to stop and to find," says Rep. Michael McCaul, the Republican chairman of the House Homeland Security Committee. "There is not a conspiracy ring to penetrate. It's very difficult to stop them and find them."

"The toughest risk to address is the motivated individual with no known connection to groups, who takes it upon himself to do something," says Roger Cressey, who worked on counterterrorism in both the Clinton and George W. Bush administrations. "The best example of that is Eric Rudolph."
Incidentally, this is exactly why I did not object to the killing of Anwar al-Awlaki. The muslim American community has been a reliable ally against terrorists, but in this age of social media and global internet access, these cancerous ideologies are always going to be a threat. It's the small-scale equivalent of Pakistan selling nuclear secrets to North Korea; their aims and intentions may differ but they are sharing their methodologies. Let me distill that to a bumper sticker: different ideologies, shared methodologies.
The bottom line is that the perpetrators were indeed Muslim, and they were indeed white, and none of that matters. What does matter is that they represent an evolution of terrorism that can no longer be described in neat tidy boxes as "muslim jihadis" or "right wing extremists" but rather something new. That category includes the Fort Hood shooter, Nidal Hassan; it includes the Olyumpic bomber, Eric Rudolph; it includes the shoe bomber and the underwear bomber and the DC sniper and Oklahoma City and Times Square and the Tiller Murder and the Sikh shooting and Columbine and the Newtown tragedy and the shooting of Gabrielle Giffords.
It's time to dispense with the obsolete, binary definitions in the past and embrace this new, single unifying concept of open-source terrorism. It's all the same, and it's nothing like the "old-fashioned" threat we faced on 9-11.