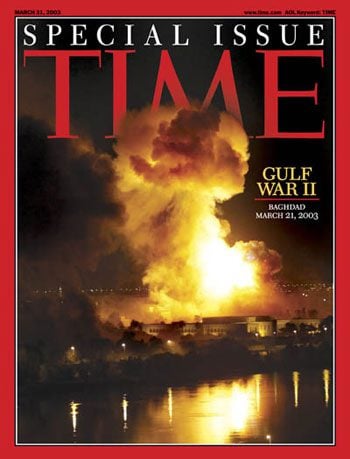 Precisely ten years ago, the Iraq War began, as limited strikes against Iraqi palaces in an attempt to initially "kill the head of the snake" and killing Saddam Hussein. These attacks were unsuccessful and so on March 21st, whose 10-year anniversary is three days away, "Shock And Awe" bombing of Baghdad ensued, as immortalized by the Time cover to the right.
I have been blogging since March of 2002, so this year is my 11th anniversary. The seminal event that motivated me to begin blogging was, of course, 9-11, but in many ways the Iraq War was the culmination of that rationale, because the entire reason given by those who advocated war was to "drain the swamp" of Islamic extremism and promote democracy in the Middle East.
Far from achieving those goals, the Iraq War exacerbated global terrorism and likely delayed the onset of the Arab Spring by a full decade, just as the ongoing campaign to start war against Iran has put the Green Revolution in Iran on indefinite hold. So it is important to revisit and reflect on the debate ten years ago.
Over the next few days I will repost entries I made in my UNMEDIA blog, the precursor to City of Brass, in the lead-up to the Iraq War. I will use the hashtag #iraq10 in my titles and I ask other bloggers – for and against the Iraq War all those years ago – to follow my example so that we create a modern retelling of that debate. Not for blame, but for illumination and insight into the very similar debate going on today.
Join me.
UPDATE: I am adding links to each Iraq War retrospective piece in this series, below: