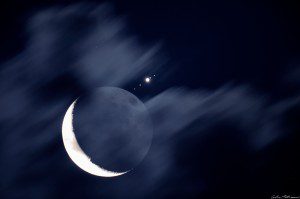 This is a gorgeous photo of a conjunction of the crescent moon with the Jovian system. It's from NASA's Astronomy Photo of the Day (APOD). Everything in this photo, including the clouds, is brilliant solely due to reflected light from the Sun.
Astronomy always leaves me breathless, but I am especially attuned to it during Ramadan. We are simple beings, striving to get closer to our Creator, and there above us in plain view is the majesty of his Creation. It is humbling and also ennobling at the same time.
Note, this photo is from a few weeks ago. Last night was the midpoint of Ramadan (according to the Fatimid calendar), so the moon is full, and is a "sturgeon moon". Here is a photo of the moon taken last night:
The next full moon will occur on August 30th, and thus will be a Blue Moon. I explain why I seem so obsessed over the phases of the moon, especially during Ramadan, in this older post a few years ago.