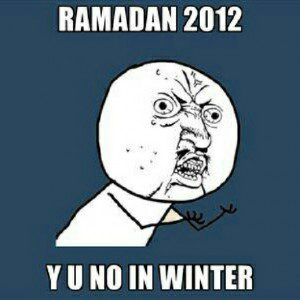 Regardless of when most muslims began Ramadan this year, everyone has been fasting for a few days and today everyone is fasting together. Since we are still early in the month, most of the Internet chitchat about Ramadan still centers on food – what we are eating, what we aren't eating, and how long the fasts are. Since only about .005% of the world's muslims live in Australia, it's pretty much a given that most muslims have long summer fasts, and the further north you live the longer the fast.
My fast begins at around 4:30 am and ends at 8:30 pm, whereas my friends in Houston fast from 5:20 am to 8:20 am (a full hour shorter) and in London from 3:30 am to 9:00 PM (an hour and a half longer). Of course, since the summer solstice preceded Ramadan, everyone's fasts will be shorter by about an hour at the end of Ramadan than at the start. Still, it's definitely a challenge and for some people it's just not possible to keep up with the physical demands. Anyone sincerely unable to perform the fast can always choose to make them up later in the year or feed the poor instead (Qur'an 2:184-185). It's not limited to just the old or the sick, mind you: this year, many muslim athletes at the Olympic Games in London are choosing to delay their fasts (and fasting is known to affect athletic performance).
Is your fast just a ritualistic obligation or can you feel your spirit growing? Feed your hungry soul! #Ramadan2012

— Muslim Matters (@MuslimMatters) July 23, 2012
Those of us with no excuse however, are committed to the fast, regardless of its length (and not everyone can take 30 days off from work or simply move south for the summer!). This is probably why at the outset of Ramadan this year there is such a huge amount of inspirational and spiritual material being written, to focus the hungry muslim's mind on their spirit instead of their stomachs!
Some examples: The crew over at Muslim Matters have been particularly active this year with a number of good articles, such as the importance of dhikr (the Sunni term; the Shi'a equivalent is tasbih). MM also keeps the tone light – here's an essay weighing in on the agonized muslimgeek debate over watching The Dark Knight Returns (which opened just after Ramadan started for most muslims). American imam Suhaib Webb is also ramping up the Ramadan coverage at his "virtual mosque" site SuhaibWebb.com – there's a nice article on freeing yourself from common emotional weights during Ramadan, and a more light-hearted series following the Abdullah brothers who play football in the NFL. Finally, Oxford professor Tariq Ramadan is doing a daily podcast series for Ramadan, entitled Ramadan's Chronicles. This is just the tip of the iceberg – there are literally dozens of muslim bloggers out there writing about Ramadan (including most of the award-winning bloggers highlighted during the Brass Crescent Awards).
Of course, muslims on the Internet are diverse and so you should not accept what another muslim says uncritically but interpret their opinion through the lens of your own tradition. But there's enough commonality between what most muslims have to say during Ramadan that it's worth hearing what others have to say.
By the end of this week, most of us will begin to adapt. There's actually scientific evidence to suggest that there is an improvement as Ramadan progresses – for example, a study on muslim athletes in 2011 had these intriguing results: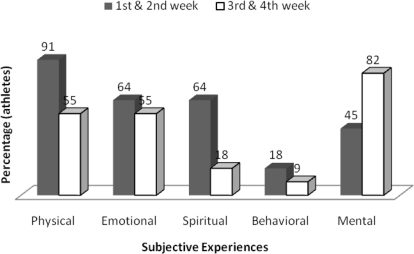 Admitedly, the sample size was pretty small, but I think anyone fasting for Ramadan will instinctually understand this graph. The full paper is online and is definitely worth reading! The main point however is simple: fasting in Ramadan entails short-term pain, and long-term gain. It gets better. Hang in there 🙂