Today Amazon.com has officially announced the second-generation Kindle ebook-reader, and it looks amazing.
The original version was pretty clunky-looking, which didn't stop Amazon from selling (by some estimates) over half a million of them. The selling point was really how easy it made it to buy books from the Kindle Store
– $10 per title, even for bestsellers and new releases, and these could be downloaded instantaneously, via the free wireless network. Given that I routinely spend $5 on a latte at Starbucks, this is actually a pretty reasonable price (especially considering that the dead-tree versions cost three times as much, and are far less portable).
The most important feature of any e-book reader is the screen, and the Kindle's "e-ink" technology does the job well, with great visibility even outdoors in bright sunlight. However, the extra features are also impressive, including an mp3 player, built in annotations and dictionary lookup, Microsoft Office document (read-only) support, and even text-to-speech of any book in your library. You can even subscribe to popular blogs (including everything on Beliefnet), which I think has implications for the political sphere as well.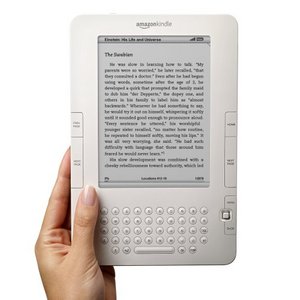 The price is pretty steep, of course – $359. If you bought one book a week (and assume $20 savings for each) then it will take about 5 months to break even. Of course, that assumes you were spending $30 on books every week to begin with, which certainly isn't the case with me. I do, however, spend about $30 a month on Starbucks, so there's some room there to optimize.
If you're into books, take a look at Kindle. The buzz is that it will change how people read books as profoundly as the iPod changed how people listen to music. Whether thats a good thing or a disaster for human civilization depends on your point of view, of course 🙂
UPDATE – Here's the official press release, and coverage from Engadget and ZDNet.