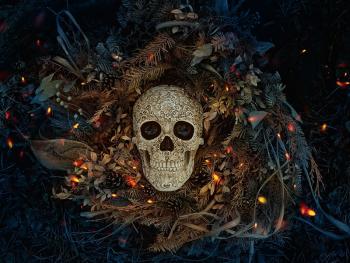 Witchcraft almost consumed Sarah Anne Sumpolec as a teenager until a chance encounter with Jesus changed everything.
Now, as a devout Christian, Sarah hopes to inspire others to see how Jesus should be more integral to every part of our lives, and He can save you from the darkest parts.
Sarah didn't grow up with stability. She traveled from home to home with her father, where the pair came close to homelessness. Things changed when Sarah turned 13, and her father told her they finally would be staying put in Delaware.
"My dad had said that we were going to stay, which, of course, was a big deal," Sarah recalled in her interview.
Sarah's new home had previously belonged to a former state governor and was reportedly now haunted, which excited her father. Sarah couldn't help but feel something was off about the home.
"My dad, from the beginning of introducing us to that house … he was insinuating that this was a special house," He hinted at it all along the way, and then when we moved there, he was like, 'You know this house is haunted,' and, of course, he tells me this in excitement," Sarah remembered.
Sarah recalled just wanting to have a connection and feel 'close' to her father, so she went along with his excitement for the occult. Her father even gifted Sarah with her first witchcraft book. Things soon took a turn for the worst, though when Sarah's own father pointed a loaded gun at the scared teenager.
"It shattered my trust in him. I was lost … but because I had this altar in my room and the witchcraft stuff, I was like, 'OK, you know, I'm gonna just dig down here.'" She said.
Sarah remembers just throwing herself further and further down the rabbit hole with witchcraft and would ultimately even attempt to end her own life. Thankfully for, Sarah, the suicide attempt failed.
She had tried to sadly end her life via carbon monoxide poisoning.
"I think I was rescued. I honestly think I was rescued because I woke up. I don't remember stopping my car. I don't remember getting out of my car, "I literally woke up on the ground next to a tree. So I fully believe an angel got me out of that car."" Sarah said.
Depression almost got the best of Sarah, but she chose to continue her life, realizing she had a second chance to make things right. It was at college that she found herself in a unique situation. Rooming with Christians who encouraged Sarah to go to Christian meet-ups where she credits her life is drastically changed.
"I still remember the whole sermon … it's been 30 some years now … because it was about altars," Sarah remembered. "I was searching," she said. "I wanted truth. I wanted things that were true, and I fully believed that what I had found in witchcraft was true. So when I heard that sermon … I realized that … if this is true, then this was off. And maybe this is the truth that I've always been looking for."
Sumpolec believes had it not been for that encounter. She would be dead.
"I should be dead. I would have been dead," she said. "I was truly transferred from the kingdom of darkness into the kingdom of light."
People should always be wary of the dark occult and the power it can have over people. Sarah survived, but that is not always the happy ending for many. God is greater than anything evil, and He can be with you in each and every situation.