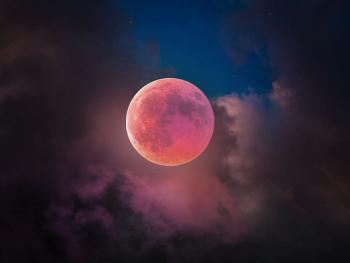 The strawberry supermoon that will be visible this week has some people wondering if it might be a sign of the end times.
What is a supermoon?
A supermoon is a full moon that will be much larger than a typical full moon as it's much closer to the earth. Supermoons usually occur when the moon travels completely around the earth and comes to its perigee and apogee points during the same time as a full moon.
Why is the supermoon so interesting?
Christians have been captivated by astronomical phenomena for centuries and it's no surprise given many apocalyptic prophecies in the Bible that point to celestial occurrences. Christians believe celestial events are a sign of the return of Jesus Christ.
For since the creation of the world God's invisible qualities—his eternal power and divine nature—have been clearly seen, being understood from what has been made, so that people are without excuse." -Romans 1:20
Are supermoons, blood-moons, and eclipses warning signs for the end times?
The Bible mentions a blood-red moon just before the seven-year apocalypse, so some folks are understandably spooked. But don't start packing your bags just yet; other biblical passages suggest that the end times may not happen for quite some time.
Does God use astronomical occurrences as warnings and signs for prophecy fulfillment?
We've seen God use darkness with past signs in the Bible. During the ninth plague on Egypt and during Christ's crucifixion, both events have been used by Christian leaders as examples that justify God using eclipses. During the ninth plague on Egypt there was no eclipse but total darkness for three days, It was believed to be a 'special miracle' performed by God as the Israelites were not affected by the darkness.
Many Christians believe the same theory for major moon events, that they are not a warning for the end-times but instead, a result of God's doing for the coming miracles.
"Do not be dismayed [afraid or confused] at the signs of heaven" (Jeremiah 10:2).
One thing Christians should not do when it comes to any celestial event is obsessing over it. It's too easy to get lost in the obsession over creation. Your focus should always be on your Creator.
So we watch the skies in anticipation and delight, but we do not forget what our Creator called us to do in the Great Commission (Matthew 28:16-20).
Use the Farmer's Almanac moonrise and moonset calculator to see when the full moon will appear in your area.
Do you think the Strawberry Supermoon is a prophetic sign for the end times or a miracle we will be graced with?