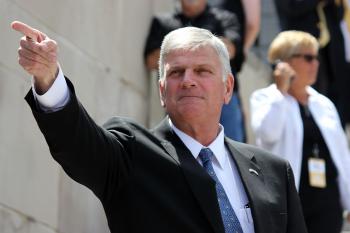 Last week, 10 Republican members voted to approve President Trump's second impeachment. Evangelist Franklin Graham compared their choice to the one Judas Iscariot made against Christ.
The head of the Samaritan's Purse has been a long-time fan of the Trump presidency, but others in the evangelical community are turning on Trump after the recent riot at the U.S. Capitol. Members of the House voted 232-197 to impeach Trump on the grounds of "inciting violence against the Government of the United States".
"Shame, shame on the ten Republicans who joined with @SpeakerPelosi & the House Democrats in impeaching President Trump yesterday," Graham tweeted. "After all that he has done for our country, you would turn your back & betray him so quickly? What was done yesterday only further divides our nation."
In a post on Facebook, Grahm further detailed his frustrations.
"But the House Democrats impeached him because they hate him and want to do as much damage as they can," Graham wrote. "And these ten, from [Trump's] own party, joined in the feeding frenzy. It makes you wonder what the thirty pieces of silver were that [Democratic House] Speaker [Nancy] Pelosi promised for this betrayal."
In the Bible, Judas Iscariot was paid 30 pieces of silver by the Pharisees to betray Jesus, who was tried and punished before being crucified by the Romans.