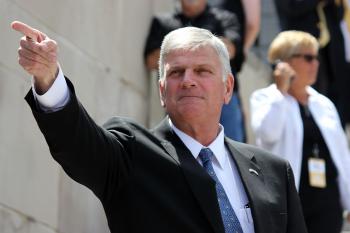 Franklin Graham, a popular outspoken evangelist, is issuing one final warning to American's. If Joe Biden wins the presidency, he says, then there will be an "attack" on Christians. Graham also warned that a switch to a democratic congress would result in Christian business and nonprofits possibly getting shut down and attacked for their beliefs.
"I am afraid there will be an attack against Christian businesses like we saw during the Obama administration. Florists who refuse to do flowers for a gay wedding, they will be put out of business. Someone who didn't want to make a cake for a gay wedding – put out of business. I think they'll see these kinds of attacks by the Left against Christian businesses and Christian organizations," Graham said this past Saturday on Newsmax TV's "America Right Now".
"I think they want to try to come after churches and tax churches and tax tax-exempt organizations that are doing humanitarian work, social work throughout the country."
"Some of the best work in the country are the nonprofits that are working in the inner cities and throughout the country, trying to help relieve some of the problems that we have in society, and they'll want to try to tax them and close them down."
Graham concluded the speech by saying that no matter who wins, he will never stop preaching the gospel of Christ.
"If we just invite Him to come into our hearts and repent, turn from our sins and trust Him and invite Him to come in, He will not only forgive our sins, He'll heal our hearts," Graham said. "He'll change us. Our country needs a heart transplant, and only God can give that to this country, and that's through faith in His Son Jesus Christ."