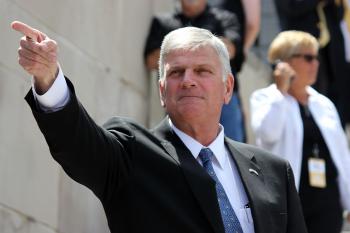 Evangelist Franklin Graham believes the issues of our nation are ones that only our Lord can solve, but our time is running short.
Graham is preparing to lead the Prayer March 2020 in Washington, D.C. this upcoming week, and said in an interview with The Christian Post that he is motivated to call the country to prayer. His heart has been telling him that the deep divisions in our country, which have been compounded by COVID-19, need God's intervention.
"I think there's kind of a boiling point here with many people. We have seen injustice on our streets and some of our communities. The frustration that people aren't heard, that people are marginalized. It seems that all of this is boiling at the same time," Graham said during the interview.
He further noted that while election years really bring these issues into the forefront, no one person is able to fix them. The spiritual darkness over America is a problem the nation needs to resolve through connection with the Lord. Graham sites the removal of God from schools, government, and society as being a reason the United States is "crumbling".
"Republicans cannot fix it; Democrats cannot fix it. Only God can," Graham emphasized. "I don't see our nation able to go much further unless we repent and call upon the name of Almighty God."
Graham is sticking to prayer at the upcoming march. He wants it to solely focus on calling for God's help through prayer.
"I don't have entertainment; I don't have music. We are coming to pray, to pray for our country, our leaders. And by starting at one end of the Mall and going to the other it's an opportunity for us to walk together and to show unity," he said.
"By coming [to the march] we are participating in something that is bigger than us, and we are going directly to the throne of grace, calling upon the name of God, asking for His favor, His help, and I hope that these Christian voices, these prayers will shake the city. And not just shake the city but shake the country. And it can happen."