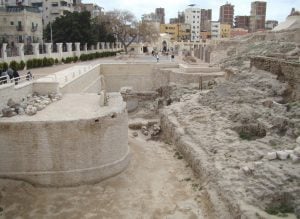 A team of archaeologists, led by Dr. Krzysztof Babraj from Kraków's Museum of Archaeology, have discovered what they believe may be one of the oldest Christian churches in Egypt, and possibly the world.
The researches were excavating the ruins of an early Christian basilica which operated from 5th to 8th Century when they found a separate area that dated even further back in time.
"At the end of the last research season, under the floor of the basilica, we encountered a wall's remains, which turned out to be the outer walls of an even older church," said Babraj.
"This is one of the oldest Christian temples discovered in Egypt so far," he added.
The older portion of the church dates back to mid-4th Century, and was destroyed at some point by an earthquake.
Previously, the team was able to discover a burial chapel, a basilica, and the largest collection of ceramic fragments ever found.
The group is hopeful that the site will shed new light on how Christianity spread throughout Egypt and the surrounding area.
"Our discovery is also important because we basically don't know any remnants of churches from the neighbouring metropolis, Alexandria," Babraj explained.
"Now we know how they could look, which is why it is so important to continue our research that we have just begun in the old church."