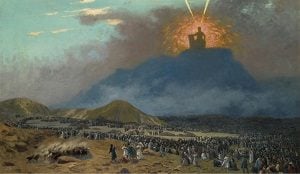 In an effort to continue expanding and modernizing the country, Saudi Arabia has planned to create a massive, modern mega city called Neom. The project was proposed by Riyadh that would cover an area of 10,200 square miles, a piece of land nearly 34 times the size of New York City. Within that parcel of land, however, is Jabal al-Lawz. Called the "mountain of almonds," al-Lawz sits near Saudi Arabia's border with Jordan. The plans for Neom call for the area to be bulldozed. Razing the mountain would mean destroying ruins and an ancient graveyard that Saudi Arabia has already marked off as areas of archaeological interest. While the loss of any form of archaeological record is always unfortunate, there is a much bigger problem with the destruction of Jabal al-Lawz. It may be Mount Sinai.
Experts from the Doubting Thomas Research Foundation have stated that al-Lawz may well be the biblical location where Moses was given the Ten Commandments. Among their evidence is potential proof of an Israelite encampment at the foot of the mountain, blackened soil that looks to have been charred by fire, the ruins of what may be an ancient temple and a "massive ancient graveyard" at the foot of the mountain. They have also found what might be the 12 pillars described in the Bible as well as etchings that may be depicting the infamous Golden Calf.
Other experts are deeply skeptical that Mount Sinai was in Saudi Arabia at all, much less that it is Jabal al-Lawz. Gordon Franz stated that "There is no credible historical, geographical, archaeological or Biblical evidence for the thesis that Mt. Sinai is at Jabal al-Lawz in Saudi Arabia." Similarly, Professor James Karl Hoffmeier said that the al-Lawz was only identified as Sinai due to "monumental blunders." That said, even the most skeptical are desperate to keep Saudi Arabia from leveling the archaeological site. Even if al-Lawz is not Sinai, experts have stated that the destruction of the mountain could make it impossible to ever find the real Sinai.
"If all of us don't take action, Saudi construction in the area may destroy key evidence and prevent excavation for the foreseeable future," said security analyst Ryan Mauro.
Riyadh's recent jump into international hot water has bought archaeologists some time to continue excavating the area and hopefully come up with a way to save Jabal al-Lawz. Following the assassination of Jamal Khashoggi, the Saudi crown prince himself admitted that "no one will invest in years" in Neom. Whether that will buy archaeologists enough time to win protection for Jabal al-Lawz is unknown, but one can only hope that the priceless information hidden on its slopes is not lost to the unending rush of the trappings of modernity.