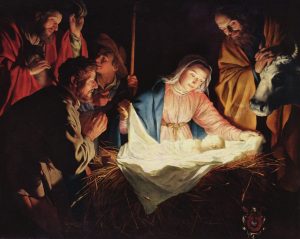 These days, any sort of openly Christian decoration is sure to become controversial. Atheist activist groups have gone after a wide variety of displays and demanded the removal of everything from the Christmas lights on an Idaho family's private dwelling to Maryland's Peace Cross, a memorial dedicated to the veterans of World War I. As such, it is perhaps no surprise that St. Susanna's Parish Dedham's nativity scene has become the subject of debate. What is unusual is that the nativity is facing criticism, not from atheist groups claiming it is somehow discriminatory or offensive, but from other Christians.
The nativity scene as St. Susanna's contains the usual suspects. Mary, Joseph, an angel and some shepherds are all present. This year, however, baby Jesus is in a cage, the wise men are locked behind a wall and the traditional "Peace on Earth" phrase ends in a question mark. The political statement is about as far from subtle as possible, and that is what has some Christians irritated.
Helen Watson drove to St. Susanna's to see the nativity scene which is slightly different every year. She was not pleased, however, by the flagrant political message embedded in it. "This is where you come to pray not to be preached at what you should think about politics," she said.
Watson is not the only one irritated by the mixing of religion and politics, especially when the church is openly taking one side of a contentious debate. Pat Ferrone, a member of the Pax Christi committee which came up with the idea for the display, however, claims that the display was not meant to "scandalize anyone. We're trying to reflect back a reality that has to be looked at," said Ferrone.
The statement that the church is trying to start the dialogue about a controversial topic, however, appears to some to contradict Father Josoma's claim that the nativity is not a dig at President Trump's policies or political activism. This assertion has garnered skepticism as the caged Jesus has been clearly identified with the children who have been separated from family members at the border, and the wise men are meant to be a representation of the thousands of migrants who are part of a deeply divisive caravan that traveled to the United States through Latin America and Mexico. On one hand, there is no doubt that the nativity has created discussion. On the other, the dialogue appears to have been less about the immigration debate and more about whether or not using religious displays to endorse a political stance is appropriate, especially in times when public displays of Christianity are already under attack.