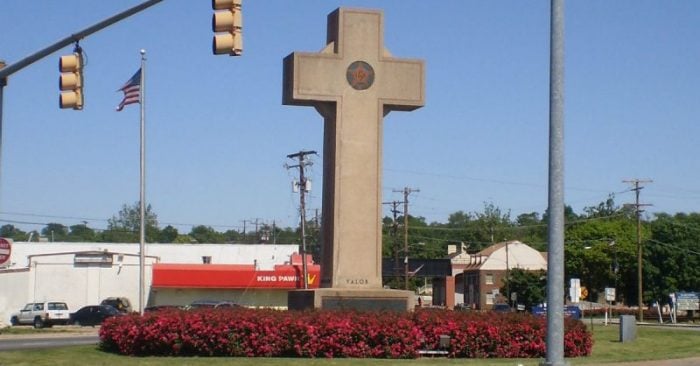 An atheist group is trying to remove a cross-shaped World War I monument in Maryland ahead of a SCOTUS ruling. The public memorial honors 49 men from Prince George's County who died serving our country and protecting our freedoms.
So far, the attempt has received backlash from service members who view the attempt as an attack on American values and those who died to defend those values.
The Peace Cross was constructed between 1919 and 1925 making it nearly 100-year-old. According to the Daily Signal, the cross faces potential demolition pending a ruling from the Supreme Court.
The controversy all started in 2014 when the American Humanist Association filed a lawsuit to have the public memorial removed. According to the group, taxpayer-funded government maintenance of the cross-shaped monument violates the First Amendment by promoting Christianity.
At the time, a lower court ruled against the American Humanist Association, siding with the Park and Planning Commission and the American Legion, America's largest veteran's service association, which originally funded the monument. However, in 2017, a three-judge panel of the 4th U.S. Circuit Court of Appeals in a 2-1 decision that the monument was unconstitutional.
Yet, defendants uphold that the monument was erected for the purpose of honoring the brave men who have made the ultimate sacrifice. They believe that the message of the memorial is patriotic first and foremost.
Veterans who have weighed in so far on this have not been happy.
"Americans of all faith backgrounds should be outraged," Jake Hill, a lance corporal in the Marine Corps told The Daily Signal.
"Where will this end? Will they begin chiseling the crosses and stars of David off gravestones in Arlington [National Cemetery] next?" he asked.
Mike Moore, a 73-year-old Army veteran from Lanham, Maryland thinks that the Atheist group are reaching with their claims.
"I think it's a reach to say that this is a First Amendment violation of the separation of church and state," Moore said. "There are lots of things in the form of a cross which are not necessarily expressions of religion…There's all kinds of servicemen's medals in the form of the cross that have no religious connotation to them."
The Sunday will mark 100 years since the armistice that ended World War I. This Supreme Court's decision has the potential to affect the way war heroes are remembered for future generations.
In a news release announcing the latest development in the Peace Cross case, American Center for Law & Justice attorney Geoffrey Surtees offered a constitutional defense of the memorial:
"The Establishment Clause was originally adopted—as the very word "establish" obviously suggests—to prohibit the government from establishing a religion as the official religion of the country. Using a cross to honor the lives of 49 World War I soldiers from the local community is hardly tantamount to establishing Christianity as the official religion of Prince George's County, Maryland. The kind of religious establishment prohibited by the First Amendment entails (among other things) coercing individuals to support or participate in religious practices—or punishing them for failing to do so. The Peace Cross clearly does nothing of the sort."