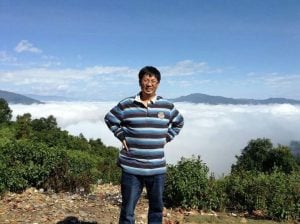 Christian pastor John Sanqiang Cao has been sentenced to Chinese prison.
In March 2017, Caro and a friend used a bamboo raft to cross from China into Myanmar. He had made the trip many times before to take supplies and food into the country. He and fellow Chinese Christian teachers would carry with them notebooks, pencils and Bibles.
The journey that enabled the missionaries to slip between the countries — a distance no greater than 30 feet — always happened in broad daylight, mostly without issue. However, this time, security agents arrested him when he arrived in China, saying that he was taking Bibles into the country.
Decades of work in China's clandestine "house" churches and unofficial Bible schools had prepared Cao for this moment. He quickly threw his cellphone into the water, protecting the identities of more than 50 Chinese teachers.
He was sentenced last month to seven years in prison for "organizing others to illegally cross the border" — a crime more commonly applied to human traffickers.
Cao's punishment was handed down as Beijing pursues a plan to "sinicize" the country's major religions, eliminate "foreign influence" and align faiths more closely with the atheist ruling Communist Party's own doctrines.
"My father, being a Christian minister, he knew what he was getting himself into and he often took pride in the risk that he might one day become a martyr for his beliefs," Cao's son, Ben, told CBN News earlier this year.
His American sons and Christian colleagues have not been allowed contact with him since his arrest.
"Nothing my father organized was ever political. It was always just religious or charitable," said Ben. "We hope that China will be merciful, and see that my father's intentions were good."
Ben told HuffPost recently that he was happy to hear the good news about Andrew Brunson, a pastor from his state who was released last week after being detained by the Turkish government for two years. But Cao said he hopes the U.S. government won't forget about his father as well.
"I understand the circumstances are different for my [family's] situation, but I hope we are not overlooked nor forgotten," Ben Cao wrote in an email to HuffPost. "Our story deserves to be told, and I believe that the American public will agree that the US Government should be more outspoken about the situation."
John Cao became a Christians in his 20s and attended seminary in New York. He is married, and his permanent home is him North Carolina.