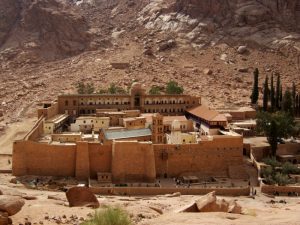 A new discovery is shaking up the world of archaeology. Ancient writings hidden in more than a hundred early Christian manuscripts were found during an archive study of the world's oldest monastery in Egypt, according to Newsweek.
The library of the Sacred Monastery of the God-Trodden Mount Sinai was in the process of making their collection of old Christian texts available online when researchers made the fascinating discovery. As they took a closer look at the available texts which had been protected behind the walls of the 6th century monks' convent, writings were revealed that could only be seen through new, high-tech methods, the BBC reported.
A collection of 4,500 manuscripts containing early Christian texts revealed that at least 170 of them contained erased information. With the use of multi-spectral imaging of parchments, researchers were able to see notes in obscure languages, ancient medical guides and Biblical revisions which monks had once scrubbed off and written over.
The practice of recycling parchment was common by monks as it was the only recourse monks had if they didn't have enough writing materials. The repurposed neglected works in the library are in what is known as a palimpsest.
Once researchers began to scan every page in the vaults of the monastery library 33 times using 12 different wavelengths, Michelle P. Brown a researcher from the University of London came across this incredible discovery. The oldest known copy of the gospels in Arabic was a palimpsest that once carried an ancient Greek medical text on treating scorpion bites.
What's really exciting about this discovered is that some of the erased texts could change the academic understanding of history. The Arabic translation of the gospels revealed an incredible sequence of writings beneath it, presenting traces of Greek, Latin and Anglo-Saxon scribes' notes. This challenges traditional views about how closely Western cultures interacted with the Middle East before the 12th century.