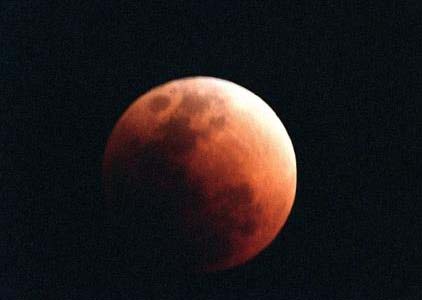 This Saturday evening marks an incredibly potent, wild moment on the earth.
—The moon will be full and, for six hours, eclipsed by the earth, giving it a rosy glow, the accumulated glow of all the world's sunsets, in fact, visible to many of us in the Northern Hemisphere if the sky remains clear.
—The Jewish holiday of Purim begins, a time when Jews laugh at their persecutors, get drunk, wear costumes, and throw whipped cream or sponges at their rabbi in some places. (I couldn't believe this the first time I saw it happening at a Brooklyn synagogue.)
–It's the Hindu full moon of Phalguna, the festive, holy time of Holi, when people paint themselves, their friends and relatives with vividly colored pigments, when social classes usually kept separate freely mix with one another.
—It's the night of the Chinese Lantern Festival, the culminating night of the Chinese New Year celebration, during which time lanterns are hung above doorways and sweet rice balls are eaten to celebrate the deliciousness of the coming spring.
If you're not aligned with any of these celebrations, and are looking for something grand to do with the moon, Waverly Fitzgerald (my best source for news of the world's spiritual calendar) suggests we perform a ritual she learned from Nancy Brady Cunningham (who calls this moon the Spring Waters Moon). After sunset, take a bowl of fresh water outside and bathe your face and your hands in the water under the moon's rosy light. How good does life get?
Astrologically, some say this eclipse will influence everybody. "Prepare for the gentle, spiritual, compassionate side of your nature to experience a rude awakening," writes April Elliott Kent for MoonCircles.com.
"If you've been struggling to retain a rosy, idealistic view of something in your life that is in fact god-awful, then prepare for Toto to pull back the curtain and remind you that the great and powerful Wizard of Oz is nothing more than a little man grasping at levers." (Hard not to think of how that statement relates to our president and the country's exploding pessimism about the war in Iraq.)
But listen, if you're reading this Monday morning, have missed everything, and knew nothing about the moon or the eclipse, tell us if anything felt different Saturday night. It's not too late to reflect upon the end of winter, and the next chapter of your life!
Here's a nice video clip of people in different spots of the globe enjoying the eclipse, one woman seeing it as a symbol of harmony.