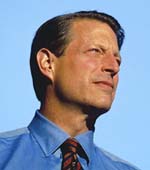 March 31st is Al Gore's birthday (he's an Aries), and astrologer Shelley Ackerman has responded to my initial please-lose-the- grief-weight-Al post so intelligently, that I must quote her here. She posted this on her website KarmicRelief:
"How about examining WHY we're so freaked out by weight in the first place? Do we really understand what causes it? Is it the same for everyone?
"I've felt for a long time that, beyond the obvious benefits of diet and exercise, there is an "X" factor…I've noticed in my own life, and in the lives of other very sensitive friends and associates (especially empaths, caretakers, or those in a care-taking sequence), that weight is harder to drop, almost as if energetically it is used as a kind of 'bubble wrap' for a very fragile core that hasn't found a better or healthier way to protect itself.
"Vice President Gore has been dealing with loss, injustice, and being misunderstood by millions. His journey can be compared to that of a very high initiate. He continues to serve and by all accounts is a very kind and caring man to all who he encounters. For years, millions, no billions, have projected their psychic energy on to him. Like all public figures he has been scrutinized, criticized, and at times treated very shabbily by the media. How well would any of us do with the projections of a couple of billion people (many misunderstanding of your good will) focused intently on you?
"Gore has just completed his second Saturn return, and in his solar return chart the Moon in Virgo–in a positive aspect to Venus in Taurus–suggests that his health and fitness will be a priority this year, and the Pluto station bodes well for an expansion of his power and influence in the year ahead."
Please chime in with your thoughts.