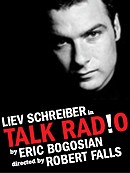 The hottest actor in New York right now is Liev Schreiber. "New York Times" theater critic Ben Brantley calls him the "finest American theater actor of his generation." I saw Schreiber in David Mamet's "Glengarry Glen Ross" a couple of years ago. And last week I saw him drink, chain smoke, snort cocaine, and viciously hurt those who love him in the guise of a broken talk radio show host named Barry Champlain, in Eric Bogosian's play "Talk Radio."
Though Mr. Chattering will forever be my one and only, I've… um, it's been difficult to get Liev Schreiber out of my chattering head.
In the course of 90 minutes, Schreiber's character dumps his co-dependent girlfriend, viciously chews out his best friend, maybe ruins his whole career (but maybe not), and gets drunk and stoned enough to sustain more than 60 seconds of radio silence as he sits at his desk in a depressive sulk. Schreiber's hugely attractive, compelling energy seemed to be sucking nothing but awe out of the audience. The way he physically portrays a man who is completely smashed mesmerized me. I'm the adult child of an alcoholic parent, you see. And it was surprising how both the revulsion and the love came charging back.
Drunks are truth-tellers. Drunks have special connections to wonderous states of consciousness.
Drunks are also drunks. And really dense, oblivious to the lives they're damaging.
Anyway, I don't think Schreiber, the actor, is too religious or spiritual. Here's the only piece of an interview I could find that touches upon his Jewish upbringing.
ELLE: You've said that you felt being Jewish was a cultural thing. In relationships, is there any trait that you regularly display that would be considered culturally Jewish?
LS: Complaining a lot.
Hum. Too bad. So that's that.
"CSI" fans are jubilant that Schreiber has signed on for a continuing part in that television series.