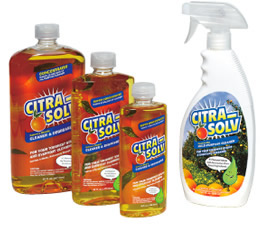 There's a smell. You know that smell? It's the fake pine smell of the commercial cleaning products that many schools and restaurants use.
When I'm stuck somewhere and I smell that smell I feel like climbing the walls. I used to sit it out. Now I leave, or move, and pray that soon, everyone will make the switch to more natural cleansers that won't trigger reactions or allergies. Here's a good take on the surge in all-natural cleaner sales.
Eco-queen Debra Lynn Dadd has a list of natural cleansers she likes. I use CitraSolve. Delicious.