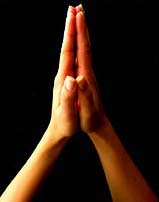 Thanks for your warm response to the cancer healing prayers I posted. I've been looking for more without much luck. Want to write some together? I'll post the prayers you send in. My friends who've had cancer say it's so hard to stay positive about chemo's healing powers when friends and family–often trying to comfort–let it be known that they see chemo drugs as "poison," or dwell on the side effects.
Here are some posts from readers who see chemo drugs as elixirs of tremendous healing power:
"My husband is an interfaith minister and Reiki Master and he has a lot of experience working with cancer patients. He has special blessings for the chemo bag and for the all aspects of cancer recovery," writes Laurie Sue Brockway.
Reader Jacqueline Robinson writes: "The word of God says 'I am He that healeth thee,' and as you are infused with chemo your whole mind has to be absorbed with the hope of glory, believing that you are [being] healed as your whole body is being infused with the medicine. I envisioned the Holy Spirit flowing through my body and held on to Him knowing that He was there with me."
Reader Laura writes: "I had breast and thyroid cancer and went thru chemo for four months. It was no fun, but between the drugs, my Faith and my God, I am healed in Jesus' name. I am going to make a ton of copies of these prayers and take them to my oncology doctor's office so that everyone there still taking chemo can be uplifted and healed by powerful words!"
Writes a reader named Marsha, currently receiving chemo every week: "It is nice to see prayers for women who have cancer. I have colon, liver and lung cancer and have been fighting it since August 19, 2006. Every week I go for my chemo and some days are good, and some bad. The prayers really help you make it through it. [I am] still fighting and will be a survivor."