From coast to coast and all points in between Andy Griffith was indeed America's sherriff.
Using measures of love, compassion and humor with those around him Griffith made Mayberry, Nc come to life.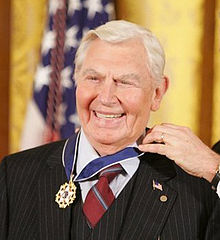 It's cool for me to see the show, which I have always watched and loved, occasionally make reference to Siler City, which is just one "town" over from where I currently reside.
But Griffith didn't just belong to North Carolina, where he died this past week at age 86.
He belonged to the entire country, from New York, where I grew up, to California, where plenty of small town folk everywhere loved him and the show.
Heck, even big city folk appreciated Griffith and wish they could return to the ideals of a simple life and simple pleasures.
Andy Griffith may be gone, but thankfully his show will live on in reruns.