It's nice to be able to write that the high points of Sunday's GRAMMYs on CBS outpaced the lows.
By a pretty good distance, too.
Sure, there was Nicki Minaj acting and dressing the fool … trying to mock Catholicism and/or Christianity.
Little Red Robin Hood, as she was dressed as, only succeeded in robbing her OWN dignity.
Other acts, mostly by rock stars, were either dull or run of the mill.
Inspiration was the key word of the night, however, as Jennifer Hudson paid homage to the recently passed Whitney Houston and there were nice tributes to Glenn Campbell and The Beach Boys.
And that Taylor Swift deserves a line by herself … she's cute, talented and so darn likeable. Who could be MEAN to her?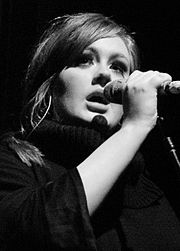 It wasn't so bad the night belonged to Adele, the soulful singer who won six GRAMMYs. She appears to be a humble and gracious star … and oh, what a voice.
It was cool to see her escorted in part by Brooklyn's own Benny Tarantini, VP of Publicity at Columbia Records and a member of my elongated family.
I may have tweeted his name incorrectly last night … shame on me!
All in all a good night for the GRAMMYs.
Be sure to check out Matt's blogs on the Yankees at: http://yanksgoyard.com/author/mattster/