I am more than a day late and probably a dollar short on this post, but I still have to write about one SUPER inspiring kid: Colton Burpo.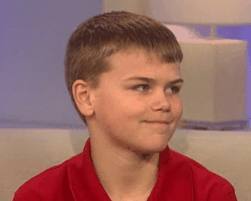 The kid author of Heaven is for Real: A Little Boy's Astounding Trip to Heaven and Back is such an impressive little man it's unreal.
Colton visited Today Weekend with his parents last weekend … I know, I know … I am really behind on this one but I STILL can't help but give the youngster his props.
Colton claims he died for a brief time after a medical emergency when he was 4, and actually got to see friends and family who had departed long before him. It is a story that's hard NOT to believe because of the descriptions he gives of people he never met before.
He also tried to describe seeing colors he's never seen before because they are not on this earth. He came across as lucid, decent and respectful despite his special "journey".
What's more impressive is how willing and able this now 12-year-old is to stand up for Christ. He makes no excuses and is firmly in command of himself and what he's saying.
Amazing!
"I remember being with Jesus and having a great time with him up in heaven," he told an NBC interviewer. "With adults (my story) is healing some of their hurts."
What a GREAT kid, who is not afraid to tell his story including in a new book, co-written by his dad, Todd: Heaven is for Real for kids.
Great story, great kid … GREAT God!
Happy New Year everyone and thanks for reading Changing Channels in 2011!