Remember Davey and Goliath?
Now that, my friends, WAS a cartoon!
Ok..credit for this post goes to a high school alumnae of mine, JoAnne, who mentioned Davy and Goliath and The Little Rascals were two shows she just couldn't shut off as a kid.
Me too, Joanne … along with Abbott and Costello and The Three Stooges.
The latter is NEVER a favorite among women for some reason, but I still find myself making Curly noises pretty often.
Usually when someone says something I don't like…lol!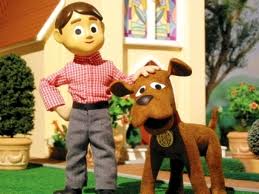 But back to Davey and Goliath.
The cartooning of the pair was crude … it was a long time ago and filmed in something called "stop motion".
The writing wasn't the greatest and neither were the voices, "hey dave-y!"
But the moral of the stories … were excellent and left you feeling good.
How many shows can you say that about today?