There are a few events I remember exactly where I was when I heard they happened.
The plane crash that took the life of New York Yankees catching great Thurman Munson was one such event.
Nov. 7, 1991, when Los Angeles Lakers point guard Earvin "Magic" Johnson announced he had AIDS was another.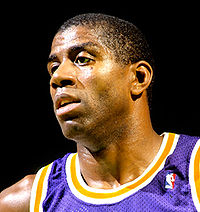 Mind you, I know Johnson's behavior in getting the disease was reckless and affected his life and that of many others.
There are things he will have to take to God for forgiveness on, if he hasn't done so already.
Magic is not alone in that area, for sure.
But despite his poor choices, and promotion of liberal policies and politicians I come to praise Magic today.
While many people don't do enough, Magic Johnson has truly made a difference by opening numerous movie theaters in low income areas.
In other words, Magic put his money where his mouth is.
I wish other entertainment and sports stars did, after all, there would still be plenty of money left over after spending millions on their lavish homes and lifestyles.
Magic is one of the greatest assist men in the history of the NBA. He has also provided many assists off-it, more importantly.