Perhaps it was the economy.
Perhaps the backers, like the well  known Bobby Flay and Curtis Stone, didn't back it enough.
Or maybe three restaurant openings across the country at the same time were too much.
Whatever the reason, America's Next Great Restaurant "Soul Daddy" shuttered its doors after just two months.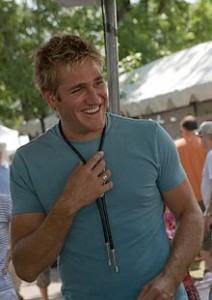 The NBC series was watchable and made a winner of Jamawn White/Soul Daddy who outperformed an Indian concept and a spicy meatballs joint in the finale.
It was heartwarming stuff watching White and his family celebrate the win.
It is disappointing to hear that his dream faded so fast.
Perhaps it would have been wise to start with one outlet in an area REALLY wanting a soul food restaurant rather than generic malls in L.A., Minneapolis and N.Y.
For many people, the consistency and general value of McDonalds is about as much as they are willing to spend on a meal.
Sad but true in these tough times.
follow matt aug http://twitter.com/#!/mattauge and/or friend me on facebook.com