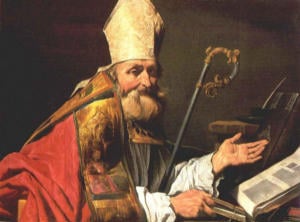 An explanation of Psalm 118 by St Ambrose
My father and I will come to him and make our home with him. Open wide your door to the one who comes. Open your soul, throw open the depths of your heart to see the riches of simplicity, the treasures of peace, the sweetness of grace.
Open your heart and run to meet the Sun of eternal light that illuminates all men. Indeed that true light shines on all; but if anyone closes his shutters against it then he will defraud himself of the eternal light. To close the doors of your mind is to exclude Christ. Of course he is capable of entering even so, but he does not want to force his way in or seize you against your will.
Born of the Virgin's womb, he shone on the whole world to give light to all. It is received by those who desire the brightness of perpetual light that no night can obscure. For the sun that we see daily in the sky is followed by darkness and night; but the Sun of righteousness never sets, since evil cannot defeat wisdom.

Blessed is he, therefore, at whose door Christ comes knocking. Faith is the door of the soul, and if it is strong then it fortifies the whole house. Through this door Christ enters. Thus it is that the Church herself says, The voice of my brother is knocking on the door. Listen to him knocking, listen to him asking to be let in: Open to me, my sister, my beloved, my dove, my perfect one, for my head is wet with dew, my hair with the drops of night.

You see that when the Word of God knocks hardest on your door, it is when his hair is wet with the dew of the night. In fact he chooses to visit those who are in tribulation and trial, lest one of them be overwhelmed by distress. So his head is covered with dew, with drops, when his body is labouring hard. It is important to keep watch so that when the Bridegroom comes, he is not shut out. If you are asleep and your heart is not keeping watch, he will go away without knocking; but if your heart is alert for his coming, he knocks and asks for the door to be opened to him.

Thus you see that our soul has a door, but we have gates too, as the psalm says: Gates, raise your heads. Stand up, eternal doors, and let the king of glory enter. If you choose to raise your gates, the King of glory will come to you, celebrating the triumph of his own Passion. For righteousness has gates, as we see it written when the Lord Jesus speaks through his prophets: Open to me the gates of righteousness.
It is the soul that has its door, it is the soul that has its gates. To that door Christ comes and knocks, he knocks at the door. Open to him, therefore: he wishes to come in, the Bridegroom wishes to find you keeping watch.