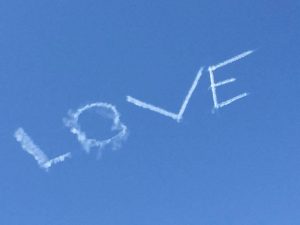 This morning, as I am writing this, it is All Souls Day. In the Christian tradition, it recognizes those who have departed this earthly plane. It is in response to the pagan holiday of Samhain (pronounced sow-in) during which the veil between this world and the next is told to be thinner. Messages, images, and visitations from those who have passed are more in evidence. I have had that experience powerfully in the past week. My mother, who crossed over on November 26th, 2010, has come through twice. Her voice, loud and clear, spoke to me a few days ago and said, in response to a few periods of self-doubt, "You've got what it takes, babycakes!" She was my most ardent cheerleader and always knew what to say to help me navigate sometimes fierce inner critiholism.
The second was delightful. We used to listen to the soundtrack from South Pacific, with the songs, I'm Gonna Wash That Man Right Outa My Hair, You've Got To Be Carefully Taught, Happy Talk, Some Enchanted Evening and Dites-Moi. It was the last one that she sang to me in my sleep a few nights ago. She had a sweet voice that had lulled me to sleep on many occasions. Although my father tried mightily, his was not so soothing. To his credit, what he lacked in talent, he made up for in enthusiasm. Blessedly, my voice more resembles my mother's lilt than my father's gravel.
I was blessed to have gotten myself born to them. I would like to think it was not a random occurrence, but rather a soul contract by which we agreed to incarnate at the same time with this family configuration. Although they were not saints, they were darn good parents who offered love in abundance and what I call Mom-isms and Dad Wisdom. I'm sure that they did a lot of seat of the pants parenting by which they 'winged it,' improvising as need be. Some of what their parents offered influenced them. I never knew either of my grandfathers, since my mom's dad Edward (I was named after him as is traditional in Jewish families) died when she was 18 and my dad's dad Jacob for whom my sister Jan was named, passed between the time he and my mother married and I was born. My maternal grandmother Henrietta was more modern and flexible and my paternal grandmother Rebecca, 'from the old country,' as she described it (Mother Russia), a helicopter parent who offered 'smother love' was overprotective. Having come to America during the pogrom in her homeland at age 16, I am sure her early life was not an easy one.
I wrote about officiating at the wedding of friends in Central Park a few years ago and highlighted this experience at the reception which was on a boat in the New York harbor:
"At one point in the evening, a touching revelation occurred. I was leaning over the railing feelin' a bit like Barbra Streisand in Funny Girl; except no one was raining on my parade. In the evening twilight, the Statue of Liberty was beaming brightly and a thought occurred to me. My Russian immigrant grandparents, Rebecca and Jacob had landed at Ellis Island in their youth, not knowing what awaited them. This was likely the first sight they saw when approaching New York. Their trip across the ocean was not first class, of that I'm certain and here was their grand-daughter (who he never met, since he died before I was born) enjoying the luxury of this boat trip around the harbor. I felt a wave of gratitude wash over me."
A story from my mother's young adulthood came to my awareness several years ago. When Barack Obama was elected for the first term, I mused with her about how amazing it was, given that I grew up in the 1960's and witnessed the inequities that divided folks based on the color of their skin. She related that when she was 18 and her father had recently died, she and my grandmother took a bus trip from Philly to Florida. This was 1942, during WWII and the bus was filled with soldiers, sailors, and marines. When the bus pulled into DC, the white bus driver yelled, "All you (and he used the N word that I won't glorify by spelling out), get to the back of the bus." At that, my mom stood up and said to my grandmother, "Come on, we're moving too." And so they did. I asked her what the driver said and she replied, "Nothing." And, what did the other passengers say? "Nothing," but each time they stopped along the way, the military personnel surrounded them to protect them from potentially angry white passengers. I marvel at this anecdote and the family in which I was raised.
My parent's example of social conscience fueled my own and it is what I have passed on to my son who, at 3o, has volunteered his time for various charities. He has become a man of whom my parents, his father, and his parents would be proud. The ancestors are smiling on us now, I know.