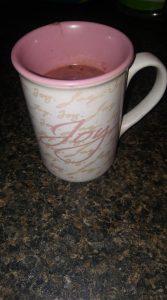 Starting this day by drinking in JOY in the form of what my father would have called a concoction. Today, I included chocolate almond milk (chocolate being my drug of choice), celery, avocado, strawberries, blueberries, raspberries, ginger and a spoonful of peanut butter. When I make these shakes, I usually think of my dad. He grew up as a 'meat and potatoes guy,' which was a surprise to my mother since my father's family was on the lower rung of the socio-economic ladder and she wondered how they could afford to feed a family of six (my aunt, two uncles, my dad and my grandparents). Maybe my Russian immigrant Bubbe was friends with the butcher. One of the conditions my mother placed on agreeing to accept my father's marriage proposal was that he had to change his diet a bit and 'eat his veggies,' as she described it. I sense that she was joking, but it did have an impact on his life and health and when he died from Parkinson's disease at age 84, he had a cabinet filled with nutritional supplements. Until a few years prior, he worked in a gym and had six-pack abs into his 70's. He was a lifelong athlete and Golden Gloves boxer in the Navy. He would jump rope and jog, use a speed bag and lift weights. He encouraged athleticism for my sister and me.  Jan and I joined our local (Willingboro, NJ) and then regional swim teams. In the summer, daily practices were part of our routine and then during the school year, we headed to the pool at Burlington County College a few times a week to hone our skills and tone our bodies. I still marvel at the lean swimmer's physique I sported in my teens and 20's and now as I have just turned 59, I am grateful to be able to enjoy good health with 3-4 times a week gym workouts at Planet Fitness (the Judgement Free Zone), yoga, some walking, and dancing. I did my first 5k back in September. More to come, I'm sure.
I contemplate the difference between happiness and joy. Back in the early 2000's I teamed up with my friend Peter Moses as we taught a workshop called Happiness is Just the Icing, Joy is the Cake. It was based on the idea that happiness is fleeting and based on externals, while joy is eternal and without direct cause. Maybe we are hardwired for it when we came into this life. It is an effervescent feeling for me, a bubbling over. It is a recognition, somehow deeper. It is not about, "I'll be happy if or when….." certain conditions are met. I can conjure joy up anytime I desire.
Moving my body brings me to a state of joy.
Being with kindred spirits brings me to a state of joy.
Being in nature brings me to a state of joy.
Watching children play brings me to a state of joy.
Playing along with them brings me to a state of joy.
Laughing brings me a state of joy.
Hugging and cuddling bring me to a state of joy.
Writing brings me to a state of joy.
Creative activities bring me to a state of joy.
God-versations bring me to a state of joy.
What brings you to a state of joy?