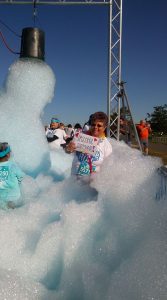 A few months ago, I decided to take another stretch as I love to do and signed up for a 5k in my area. Dubbed The Bubble Run, this event is non-competitive with zero, (did I say zero?), time clocks. Everyone is a winner. Babies in strollers and snugglies, as well as toddlers, teens and seasoned people like myself and those on the high side of 70, strolled, rolled, trotted, sauntered, danced, skipped, ran and full-tilt boogied through the three-mile course to the sound of the music played by DJ Steve whose way cool job it is to follow the bubble trail cross country. Why is called The Bubble Run?  At points along the course, wafts of iridescent soapy orbs cascade down upon willing revelers, splotching white t-shirts with multicolored tie dye pizazz.
A few things I loved about the experience:
It is for a good cause. Each city where they are held chooses a charity to which the proceeds go. Ours was Emiliana's Hope, which is dedicated to the memory of Emiliana Rose O'Brien whose life was cut short at age 13 in 2015 by an osteosarcoma. Her family decided to give meaning to her passing by creating this 501c3 non-profit organization. Check out the website and see how you can get involved.

It is light hearted and playful. This Bliss Mistress had tremendous fun anticipating and engaging in it all.
I was delighted that the demographic included people of many cultures. The only color that mattered was that coating our clothes, hair, and skin. Would that those who spew hate come to accept that.
Families got to spend quality time together.
I am not a runner by nature since asthma has made it challenging to keep up the pace and yet this race (which is really a misnomer, since speed isn't important) was easy to complete. It was also an ongoing part of my cardiac rehab since having a heart attack in 2014.
My much more athletic friends (some Iron Man triathletes, cyclists and marathon runners) cheered me on in advance and in absentia. I could feel their 'you can do it,' encouragement. One sent a pre-race message this morning that read: "Best wishes in your race today. Go out nice and easy so you don't tire yourself out and mostly just enjoy it – after all you're getting a free bubble bath out of it."
I decided to make the experience more pleasant for myself and hopefully for others there by doing my FREE HUGS thang. When people connect heart to heart and hug to hug, otherwise strenuous activity becomes more flowing and fun. Hug highlights: A 3-year-old little girl kept following me and running up for hugs. Teenagers young enough to be my kids swarmed me; some covered in bubbles that we smooshed all over each other. A man who towered over me telling his friends, "That was a reaally good hug, she knows what she's doing."  I reminded him that I have lots of practice. Others approached me upon seeing my sign and we hugged it out with zest.
I left with a feeling of accomplishment as I sloshed my way back to the car, bubbles clinging to my legs and running shoes that, themselves got quite a workout.
My heart is full! <3
Upcoming Bubble Run events can be found here.