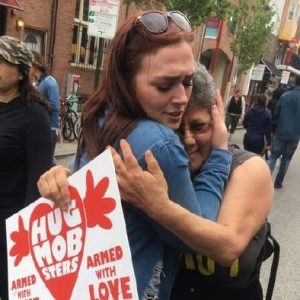 Saturday and Sunday, May 6th and 7th were Global Free Hugs Days. Designed to celebrate the power of connection via this form of nurturing touch, it called out to me to head to South Street in Philadelphia during their annual street fest with my Hugmobsters Armed With Love sign and my open arms.
I estimated that I shared 100 or so hugs in a three hour period. Memorable among them were a family from Brazil, who approached me nearly immediately, police officers keeping an eye on the festivities, people who came running over to me enthusiastically, and one man who said he didn't like to be touched, so I distance hugged him. There was also a group from Ireland as I shared a hug with a young woman from Dublin. The cosmically coincidental connection is that I live in Dublin, PA. Since this tourist area of Philadelphia attracts people from around the world, it came as no surprise that at the next table sat folks from India who stood up and requested their hugs.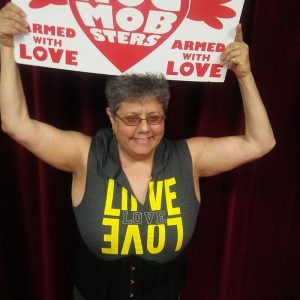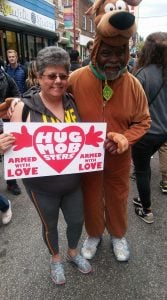 At other points along the route, I encountered a cute puppy, two little kids, and a guy in a ScoobyDo costume. Speaking of playing dress up, I stopped by my friend Kali Morgan's store called Passional where she suggested that I pose wearing a cincher/corset which she laced up so tightly that I could barely breathe, and then, later on, I came back to the store and decided that it needed to come home with me. I also posed with two clean energy company staff. Enough energy to go around for everyone. I received multiple hugs from some of the same people who couldn't seem to get enough. I know that feeling since I admit to not being totally altruistic in my hugging activities. I reap benefit from it as well.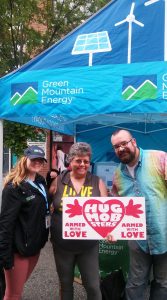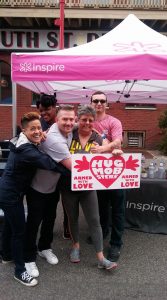 As if to show me that hugs are needed to brighten dark corners, I saw a man with a megaphone spouting all manner of vitriol in the guise of Christianity. He was indicating that anyone who didn't follow his own narrow spiritual perspective would burn in hell. Fortunately, his words didn't incite a riot or have folks express agreement. Instead, people were shaking their heads in disgust.
Had I been braver, I would have approached and asked "Who would Jesus hate?" and added "Hugs, not hate." and offered him a hug. I wasn't sure what he might have done and I'm not sure he would have been open enough to hear another perspective. In retrospect, it occurred to me that I would have been safe. Police were all around. Those who were not in agreement with his stance were all around. The next time the opportunity arises, I will take that courageous step forward, arms outstretched. He probably really needs a good hug.