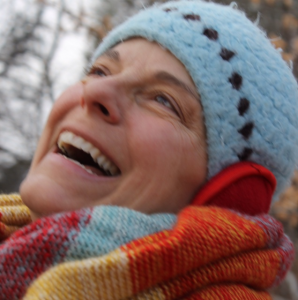 I met Susan Herrick back in the 1980's when this music therapist turned singer songwriter was beginning what has been a twenty some year musical journey. A multi-instrumentalist and sacred sound healer, she has a 2  1/2 octave vocal range that can seem like various instruments in and of itself. Three previous releases, entitled Soul Chant, Paint and Truth & The Lie have become perennial favorites. I listen to them when I want to feel wrapped in a blanket of melody and harmony. Some of the selections are about self discovery and love songs to the woman in the mirror as well as other dear ones.
Her newest creation called Songs Beyond The Traffic is a love affair with nature, as it takes the listener off the bustling main road into a world of sonic serenity.  The opening piece called Who Am I? begins with the musical inquiry:  "Cars, trains, passing lanes, high speed liners,  jet airplanes, who am I?  Be here, then be there, so much to do, no time to spare. Who am I?"
Blessedly, the response comes from the throat of another song-bird; a WoodThrush 1 as this piece starts out with road sounds and then flute that is calling the winged one to match her tone note for note.
In Frogs, Susan explains her desire to use music for healing and claims her role as a 'citizen of the world' to bear witness to the sounds of nature, before they are no more. She is a stand for the environment and social responsibility.
Dove cajoles with cooing and percussion that evokes a desire to dance swayingly to a Caribbean breeze, with the instructions to "let go and rest your soul."
Chimes, piano and mystical chanting are fused with raucous cries of Gulls in the following selection.
Breathing in the Ocean air, Susan bemoans the fate of marine creatures and claims "I can't write another song til I write this one down," with the intention of being a guardian of the sea.
It is easy to imagine Crickets hovering under shrubs as footfalls crunch leaves and Susan's voice weaves around the insect serenade.
Seal  has an unexpected disco sound to it, as the listener can imagine the sea mammals shaking it to the rhythmic beat.
Wood Thrush 2 enters with piano and woven words " The truth of the Earth awaits us all …. it is generous enough." A 1960's anthemic feel to it, with shaking tambourine and overlapping vocalizations.
The CD closes out with Bird meditation. Resting on a glorious summer day, feeling the melting sun beams cascading down and a fully orchestrated improvisational concert for the pleasure of anyone who will take the time to stop and listen with the ears of the heart.
Songs Beyond The Traffic is an Earth prayer in which Gaia leads anyone with the willingess to hear and the open heart to join in.
The CD will be available on February 1 on CD Baby. Go to
CDBaby.com
. Mother Earth thanks you.