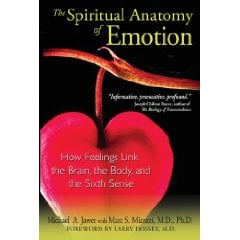 Are you more susceptible to illness than other people? Do you have difficulty establishing proper boundaries in relationships, and communicating your needs?
You could be a Type C personality, which makes you more susceptible to illnesses, says Michael Jawer in the fascinating book he wrote with Marc Micozzi, M.D, Ph.D., called "
The Spiritual Anatomy of Emotion: How Feelings Link the Brain, the Body, and the Sixth Sense,"
which you can read about at
www.emotiongateway.com
.
Here's what Michael writes about the Type C Personality:
In recent years, a cluster of personality characteristics has come to be identified as the Type C personality, someone who is at heightened risk for a slew of afflictions, from colds to asthma to cancer. In contrast with the Type A person (who angers easily and has difficulty keeping feelings under wraps) and the Type B person (who has a healthier balance of emotional expressiveness), the Type C person is a suppressor, a stoic, a denier of feelings. He or she has a calm, outwardly rational, and unemotional demeanor, but also a tendency to conform to the wishes of others, a lack of assertiveness, and an inclination toward feelings of helplessness or hopelessness.
This is the sort of personality that Canadian physician Gabor Mate has studied extensively. Over his years of family practice, Mate relates, he began to notice a pattern: individuals who were unable to express anger, who didn't seem to recognize the primacy of their own needs, and who were constantly doing for others, appeared to be the ones most susceptible to a slew of ailments, from asthma, rheumatoid arthritis, and lupus to multiple sclerosis and amyotrophic lateral sclerosis. These conditions are all autoimmune disorders. Mate claims that, when an individual engages in a long-term practice of ignoring or suppressing legitimate feelings–when he or she is just plain too nice–the immune system can become compromised and confused, learning to attack the self rather than defend it.

Emotional expression, in Mate's view is absolutely essential because feelings serve to alert the individual to what is dangerous or unwholesome–or, conversely, to what is helpful and nourishing–so that the person can either take protective action against the thread or move toward the beneficial stimulus. If someone never gets angry, this reflects an unhealthy inability or unwillingness to defend personal integrity. Such "boundary confusion" can ultimately become a matter of life and death. If someone just cannot say no, Mate argues, his or her body will end up saying it in the form of illness or disease.
* Click here to subscribe to Beyond Blue! And click here to follow Therese on Twitter. And click here to join Group Beyond Blue, a depression support group. Now stop clicking.