When I attended the Mental Health America conference a few weeks ago, I had the pleasure of eating lunch with Washington Post journalist Steve Luxenberg, a moderator at the conference. He kindly inscribed for me a copy of his fascinating book, "Annie's Ghosts: A Journey into a Family Secret." On his website, he writes the tale behind the book… Steve can be reached at Steve@steveluxenberg.com.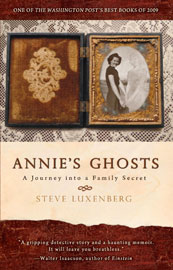 My mother was an only child. That's what she told everyone, sometimes within minutes of meeting them. When I heard that my mother had been hiding the existence of a sister, I was bewildered. A sister? I was certain that she had no siblings, just as I knew that her name was Beth, that she had no middle name, and that she had raised her children to, above all, tell the truth.
Part memoir, part detective story, part history, Annie's Ghosts revolves around three main characters (my mom, her sister and me as narrator/detective/son), several important secondary ones (my grandparents, my father and several relatives whom I found in the course of reporting on the book), as well as Eloise, the vast county mental hospital where my secret aunt was confined–despite her initial protestations–all of her adult life.
As I try to understand my mom's reasons for hiding her sister's existence, readers have a front-row seat to the reality of growing up poor in America during the 1920s and 1930s, at a time when the nation's "asylums" had a population of 400,000 and growing. They will travel the many corridors and buildings of Eloise Hospital, a place little known outside Detroit but which housed so many mentally ill and homeless people during the Depression that it become one of the largest institutions of its kind in the nation, with 10,000 residents, 75 buildings, its own police and fire forces, even its own dairy.

Through personal letters and photographs, official records and archival documents, as well as dozens of interviews, readers will revisit my mother's world in the 1930s and 1940s in search of how and why the secret was born. The easy answer–shame and stigma–is the one that I often heard as I pursued the story. But when it comes to secrets, there are no easy answers, and shame is only where the story begins, not ends.
Whenever the secret threatened to make its way to the surface, Mom did whatever she could to push it back underground. Just as Annie was a prisoner of her condition and of the hospital that became her home, my mother became a virtual prisoner of the secret she chose to keep. Why? Why did she want the secret to remain so deeply buried?
Employing my skills as a journalist while struggling to maintain my empathy as a son, I piece together the story of my mother's motivations, my aunt's unknown life, and the times in which they lived. My search takes me to imperial Russia and Depression-era Detroit, through the Holocaust in Ukraine and the Philippine war zone, and back to the hospitals where Annie and many others languished in anonymity.
For me, it was the quest of a lifetime.
* Click here to subscribe to Beyond Blue and click here to follow Therese on Twitter and click here to join Group Beyond Blue, a depression support group. Now stop clicking.