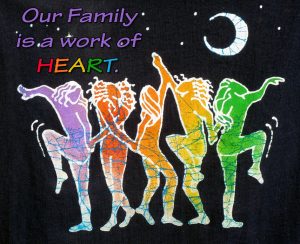 I have heart family. Brothers who have grown into their places, sisters who do not need similar faces to be part of my heart's family. Once I even had almost-mothers, and almost-aunts, each now lost to time and distance.
This weekend, one of my brothers is here to visit his own father (no kin – real or otherwise – to me). His father is elderly, and fragile. Although sometimes I wonder if that 'Greatest Generation' isn't stronger than all their children!
My brother's unexpected visit reminds me that I have lost touch w/ other friends, from other times: friends I now have nothing in common with. Men & women who were once almost as dear to me as my family now – real & otherwise. 🙁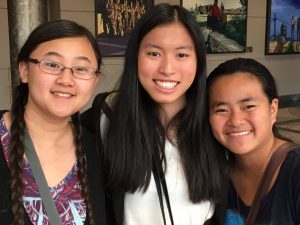 Why do some friendships last lifetimes? What feeds that kind of love, where other loves wither & fall away from us? Is it like values? Shared experiences? Random luck? My brother lives a day's journey from me, and he & his wife had their children much later than we had ours, although all four of us adults are about the same age. Their youngest is 14 – mine is more than twice that. So yes, we both have children. But so do people I have let go of, people I have watched slip past me into a that was then time.But G's children — his three intelligent, sensitive, amazing daughters — call me 'Aunt.' They email me sometimes, send me a paper draft to look at. Share their lives with me. They too are family.
When G & his beloved A & the three girls come to town, they always get in touch. A & one of the girls & I also connect through FB. And when they come, like most families, we have traditions: a visit to our favourite museum restaurant & garden, a walk across the river bridge. I give them trinkets, sometimes. They gift me with origami cranes & frogs & boxes.
My brother & sister-in-law shares my values, sure. But so, once, did others. I suppose part of today's relationship is that my brother & I – and our beloveds – have grown into similar values as we've aged. That isn't true of many of my once-upon-a-time friends, who now espouse political positions I find heartbreaking.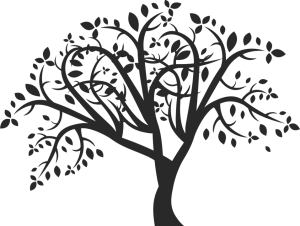 So here I am, beyond grateful for what is, in some ways, random luck. Wondering – believer in magic that I am – if there is intent to the universe. If my brother & his wife – closer to me than some blood family – are 'meant' to be part of my life. The usual ties that bind do not tie us: we live far from each other; we have different time lines; we work in different fields. And still? We are family. But because we don't share blood ties, I am the more grateful that we continue together. It does, indeed, seem magical.
If you're lucky enough to have heart family, you know exactly what I mean. And I'm sure you treasure them as much as I do, knowing well what they bring to your beginner's heart. Today? Drop a line to one of your heart family. Let them know you love them. It will be a gift to both of you.