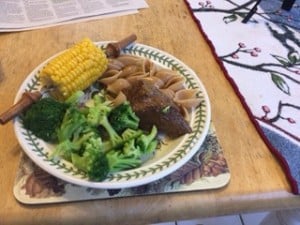 No, I didn't make ginger scones to go w/ the roast beef. That would just be…odd. Obviously, none of the three go…together. That's not the point, is it?
I made the chicken soup yesterday. Since we didn't have baking powder, I had to make the cornbread today. Because 'the point' is to have plenty of comfort food for my son, DIL, and grandson. Stuff the 'kids' — my wonderful son & DIL — can take to work tomorrow. Like homemade chicken noodle soup with cornbread. And, of course, stuff we can eat hot for dinner. I made roast beef today, with all kinds of veggies (who doesn't love corn on the cob??) for tonight, and then sandwiches this week.
Ginger scones? Well, they're getting made tomorrow, so N&E can take them to work for snacks. What says comfort more than scones w/ crystallised ginger & macadamia nuts? Fix a mug of tea at work, and there it is: healing time.
My son told me again today (multiple times) how grateful that I came up to help out. I tried to explain: coming up is only secondarily for N, E, & T. When people you love so very much are almost broken by grief, being able to help is a gift that helps the giver. I can 'fix' nothing for anyone, really. But I can cook & do laundry & run errands. Because the only thing that really heals grieving — to whatever extent healing is possible — is time.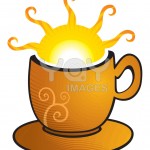 So when I cook dinner, when I do laundry, when I run to the Kroger's up the street? It's the form of tonglen I adore — transforming my own grief for my loved ones into the tangible material comfort of food and clean space. Time to go to the park & forget for a moment that you hurt. Clean clothes and a full table.
If you know someone you love who's grieving, and you don't know what to do? Well, there's a reason we usually take food to funerals. But it doesn't have to be a funeral. Someone mess up a job interview? I recommend cookies. How about a car wreck? That calls for pie. More serious losses usually merit a full meal. Chili when it's cold, with cornbread.
And no, I'm not kidding. It's the gift that comforts the giver as well as the getter. A  lovely way to show you care that gives right back.