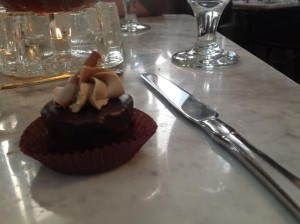 This was my dessert today, which is just the kind of ordinary gratitude I love. BUT… It also was FREE! Another everyday gratitude. AND it was eaten across the table from my smart, funny, pregnant niece (to distinguish her from my other smart & funny nieces… 🙂 )
It's a Mexican chocolate petit four, and it was absolutely decadent. Just a petite bouchée, literally a mouthful. Perfect after an ENTIRE POT of tea (Golden Moon's madagascar vanilla, a total departure for me, as I usually don't do flavoured teas). Not to mention the chicken salad, or the tomato parmesan soup…
I wonder: does food really taste better when shared w/ people you love? Or is that just our social animal nature bleeding through? We are pack animals, after all: small shrewdnesses of apes scattered across the world, gathering over food. And I know that offering my niece a sip of my tea — she doesn't drink caffeine these days — was as much fun as drinking it myself. Really.
Last night I sat around the table w/ old friends & colleagues. Two of us go back almost 20 years, but all are very dear to me. We broke homemade bread together, stirred homemade soup, and eventually dunked homemade biscotti into cups of hot tea or glasses of wine (yes — you read that right: it's an Italian thing). And the meeting went both more quickly and more happily, centred as it was on what connects us.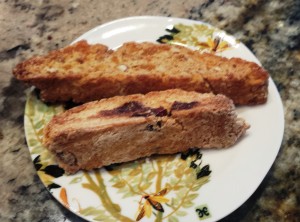 Someone asked me recently what these posts on everyday gratitude have to do w/ beginner's heart. Everything! I thought. But I tried to explain more clearly: Our lives are rich w/ gifts we take for granted. And life around us can be stressful, leaving us feeling empty. Noticing, each day, where beauty hides, where goodness walk, where calm and comfort can be touched, is healing. And what heals each one of us works towards the happiness of us all.
So here's today's grateful appreciation: of sharing a table of good food & drink (tea qualifies!) with people you love. Everyday? Sure. But none the less appreciated for being familiar.