A dear friend, in a recent conversation, told me that a mixup at her job was all her fault. It wasn't (just FYI), but she's been trained — as both a female and a good person — to accept responsibility for when things go wrong that she's involved in.
Here's the problem with that: sometimes, $#!+ happens.  And there's nothing to do to plan for it, nothing to do to avoid it. Because it wasn't your fault.
But so often, my friends — and not only my female friends, although we're the worst — bow their shoulders and accept that burden.
I'm not advocating for flaky responsibility shirking, believe me. But I wonder when it became acceptable for top-level execs to shrug off responsibilities (I'm looking at America's big companies, now), accept bonuses even when their companies are failing, and just go on. While my friends shoulder the blame (which is how it feels) for events unrelated to their own actions.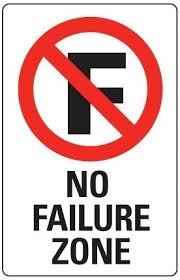 How did things go so cockeyed?? What happened to lovingkindness? We certainly wouldn't treat our friends like this!
My friend is not responsible for personalities, for instance. Some folks just don't get along, so they won't talk. You can't make them. They don't like each other — even if they don't 'dislike' each other — and that means they are going to go out of their way to avoid communication. Is that MY fault? Or her fault? If adults don't act like adults, are you responsible for that?
Me? I tend to give folks the benefit of the doubt. I assume you're grown-up until you show me otherwise. So usually, something unpleasant-ish has to happen before I realise I will have to 'manage' you differently.
And that's my point: we are NONE OF US 'failures.' Sure we 'fail' at activities, projects, events, whatever. But I see a homeless kid tackle an app to Harvard, a former drug addict put together a drug therapy program. My sister works at Goodwill Industries, where 'failure' is just not operative. Every day she could tell you a success story.
I'm just saying: quit beating yourself up, America. Except for those flaky execs, who could use a bit more mea culpa. And we could all use more lovingkindness.