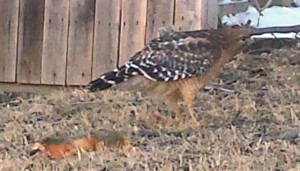 When I took this picture, I was thrilled. Here was a hawk, on our corner, w/ its kill! And a second later, I noticed another hawk — a mature one, sitting atop the fence behind its offspring, watching as the young one tried to figure out how to eat a dead squirrel. How cool!
I confess: I never gave a thought to the squirrel…It's all about context.
Yesterday, driving somewhere, I swerved to go around a newly dead squirrel in my lane, its creamy belly fur ruffling in the summer breeze. But what almost stopped me wasn't the dead squirrel, but its companion on the curb, pacing the cars as they drove past, watching. And no, young squirrel: your companion is not getting up.
So my grief wasn't for the death — nor is it usually, these days. It's for those of us abandoned to life, left to remember. Left to grieve, like the uncomprehending squirrel to the side of Riverside Drive, waiting for a small miracle.
Just a single squirrel now. Not part of a family, or a mated pair. Just a living squirrel, watching the wind tousling fur on a dead companion.
And I never even thought about the hawk.