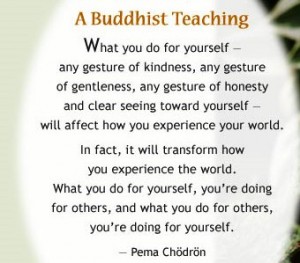 I write frequently about being kind to our own flawed and fallible selves. Because I see so many people talking to and about themselves in ways they wouldn't address horrible strangers.
I hear dear friends talk about themselves as failures, citing their inability to walk serenely through their overwhelming lives. Colleagues badmouth their work; acquaintances are dismissive of their considerable accomplishments. Strangers share stories of how they are horrible people (they aren't).
Self-love, people. A little self-love, please.
Thus the lesson for today, from my dearly beloved Pema Chödrön, she who always makes me feel better — and more like doing better. (It's hard to feel inspired when you hurt.) She doesn't ever hurt, unlike too many current religious  elders. Her religion — like the Dalai Lama's — is kindness. To all of us, including her own wonderful self. And mine.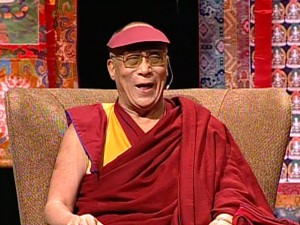 I guarantee you that Pema Chödrön also struggles with self-abnegation. Don't we all? Probably even the Dalai Lama — although I confess I can't imagine!
Kindness to ourselves is soooo much harder than being kind to people we love. Or being kind to strangers. I can summon great sympathy — even mercy — for people who do cruel things, when I think about their contexts. But all I have to do is drop something and words like 'idiot!' come out of my mouth.
I don't know how to change that for us. I do it, you do it, she and he and they ALL do it. It's the way of human beings, if they're not insufferably arrogant. We are hardest on ourselves — we are our own difficult, too-often-unloveable friends. And the people who appear so very confident, who think they never err? I can't help but remember the saying behind every superior attitude is an inferiority complex.  It's true far more often than not.

What I can assure each of us — you, me, each tentative, shrinking heart — is that we have our own inimitable gifts. Gifts no one else can offer. Unique presents for the world around us. And those gifts deserve appreciation, and love. Our own, first of all.  Because if I can't love me — forgiving my own faults & flaws — how can I love you? Really love you — in your occasionally horrible, frustrating and challenging, disappointment to me?  To love ourselves, we only have to offer up our gifts, from our quaking, unbelieving hearts. Others will show us how valuable those gifts are. But first  — and hardest of all — we have to believe they exist, and that they deserve appreciation. Let's start there.