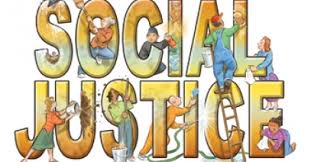 Today's 30 Days of Love prompt is to look at the social justice programs of another faith. Initially I thought I'd write about engaged Buddhism again, as many Americans are unfamiliar with it. But when I went to look for social justice images to use in today's post, I found this one, courtesy of U. S. Catholic. It comes from an article I must have been meant to see, as it's a topic I often brood over.
The title of the article is "Social justice: What's tarnishing its good name?" Written by Kristen Hannum, the article notes that despite conservative media's insistence that social justice is a "code phrases of the religious left who prefer government solutions to human problems," 'social justice' is a constant thread through Catholic doctrine and history.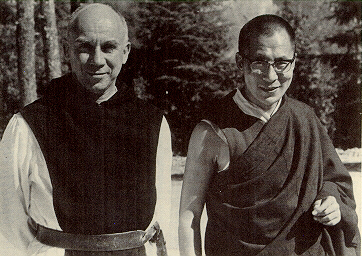 I've never understood why people advocate for a more Christian state, on the one hand, but don't want governmental support for the disadvantaged, on the other. If you can forbid abortion on religious grounds, why can't you legislate support for the poor? It seems totally illogical to me.
But I understand that faith is belief and not reason, at least for many. Still, it's good to know that U.S. Catholic magazine agrees with my beliefs: social justice is good religion. The Trappist monk Thomas Merton also agreed: in his latter years, before his tragic and untimely death, he said that he wanted to become as good a Buddhist as possible, in addition to his Catholic monastic calling. He saw no conflict between the two faiths; the Buddha never asked to be worshipped.
Today's 30 Days of Love prompt can only help bring us closer together, as we recognise that each of our wisdom traditions values helping the poor, the elderly, the vulnerable among us. Making opportunities available to all is the best form of social justice. One the world around us needs far more of.